Enterprise Resource Planning solution workshop for Chemical Industry at Sheraton Saigon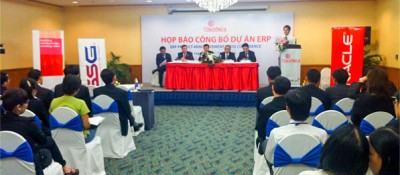 n the workshop, the expert consultants of Oracle and SSG have presented modules such as: Oracle Process Manufacturing (OPM), Purchasing Management (OPM), Order Management (OM), Oracle Business Intelligence (BI) and Infrastrure for Oracle solution - Oracle E-Business Suite.
The workshop is enterested of representative leaders from enterprises in chemeical industry as plastic, rubber, fertilize… attend.
SSG is proud to have successfully implemented for huge enterprise in the field of production and supply of fertilizers: PetroVietnam Fertilizer and Chemicals Company (PVFCCo.) and ADC JSC.