Seminar on Solutions-Services-Infrastructures for Transportation
HCMC, September 21st – Sunshine Gimasys, Oracle and HP have organized a seminar on "Solutions-Services-Infrastructures for Transportation" this morning with participation of more than 50 representatives from sea freights, land transports, and port businesses. The seminar helps target businesses to get an image of advance world-class management solutions and a clearer look on ERP. It also…
Continue reading

Seminar on Solutions-Services-Infrastructures for Transportation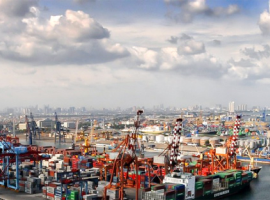 HCMC, September 21st – Sunshine Gimasys, Oracle and HP have organized a seminar on "Solutions-Services-Infrastructures for Transportation" this morning with participation of more than 50 representatives from sea freights, land transports, and port businesses.
The seminar helps target businesses to get an image of advance world-class management solutions and a clearer look on ERP.
It also helps to analyze difficulties and challenges of businesses on the way to introduce ERP. Focused on transportation industry, the seminar also introduced outstanding dedicated solutions to help businesses more understanding IT capability in optimizing leader's performance.
Attended the seminar were leaders from the industry, who most care about modernizing management model. Participants shared the common that there are many stage to modernize management system in Vietnam such as re-structure, re-orgazine, select appropriate model, managing changes, and all are depended on leadearship will.
As a professional consulting firm in implementating ERP, especially on transportation, logistics and port, SSG hopes to bring quality total IT solutions at acceptable costs. SSG is always open to work with customers to choose the most applicable solutions as well as prepare necessary conditions for ERP implementation.